Contact Us
We are here to help you and answer any questions you may have about toilet rentals, construction fencing or septic pumping.
613.234.9799 1.877.234.9799
Mail: P.O. Box 1024, Manotick, ON K4M 1A8
Frequently Asked Questions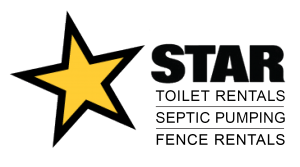 FULL SERVICE RENTALS — 
Top Quality Construction Fencing, Star is well known in the Ottawa area for providing Portable Toilet Rentals and Septic Tank Cleaning Services.
Serving Ottawa, Kemptville, North Gower, Stittsville, Richmond, Manotick, Kars, Osgoode, Greely, Metcalfe, Vernon, Russell, Brockville, Prescott, Morrisburg, Ingleside, Cornwall and most of Eastern Ontario
Star Toilet Rentals  |  Star Fence Rentals  |  Ottawa Septic Services  |  Star Septic Pumping  |  Kemptville ON  |  613.234.9799  |  1.877.234.9799  |  info@startoiletrentals.com