613.234.9799  |  877.234.9799
Star Fence Rental Terms and Conditions
The terms and conditions of your portable fence rental agreement are as follows:
The customer is responsible for any and all damages to Rented Equipment (Fencing Panels, Bases, etc.) during the rental period.
In the case of theft the customer is responsible for the cost of replacing the fencing panel and/or its parts.
The customer agrees to pay the following amounts for any Equipment that is unrepairable or lost on a per unit bases:
Panels … $90.00
Bases … $20.00
Tops … $10.00
A credit card number is required upon ordering. The credit card number will be kept on file for security purposes.

We accept VISA and MasterCard. Please note: Our terms are net 30 days.
Your credit card will be charged if your account becomes 60+ days overdue.
We also reserve the right to charge the "renter" any further costs incurred to Star Fence Rentals through the use of alternative debt collection services. Example: Collections Agency, Legal Fees, etc.
We require up to 10 business days for pick up to be completed from date of stop rental.
We work with a 28-day billing cycle.
Customer is responsible for all charges incurred for bad debt collection.
Through the continued use of our services you are agreeing to the Terms and Conditions of Star Fence Rentals.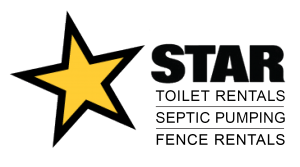 FULL SERVICE RENTALS — 
Top Quality Construction Fencing, Star is well known in the Ottawa area for providing Portable Toilet Rentals.
Serving Ottawa, Kemptville, North Gower, Stittsville, Carleton Place, Almonte, Arnprior, Richmond, Manotick, Kars, Osgoode, Greely, Metcalfe, Vernon, Russell,  Brockville, Prescott, Morrisburg, Ingleside, Cornwall and most of Eastern Ontario