613.234.9799  |  877.234.9799
Temporary Construction Fence Panels
Our yellow welded metal construction fencing panels are 9.6ft in length with a height of 6ft. Protection from the ground up!
Where is Temporary Fencing Used?
• Construction and Demolition Sites • Commercial Businesses & School Portables • Housing Sites • Renovation and Pool Installations • Restoration Sites • Fire-damaged sites • Special Events • Festivals, concerts, sporting events and more
Temporary panel fencing is an excellent perimeter security solution when a permanent fence installation is not a viable option.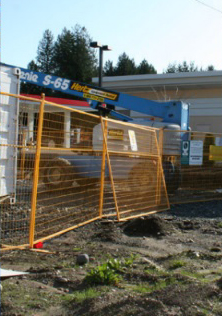 For Event and Job Site Security
Outdoor asset protection, equipment storage and security can be enhanced with temporary fencing.
Ease of Use – fencing panels are an excellent temporary perimeter solution when a post-driven fence installation is not a good option.
Star fence panels have superior exposure and corrosion resistance, and perfect for the demands of an outdoor construction site.
Easy to transport and secure into place, above-ground panel fencing provides a sturdy and reliable barrier for many job site applications.
Portable Construction Fence Rentals for events are Perfect for crowd control barriers.
Star Fence provides fast delivery, set up and pick up of your temporary fences.

The Benefits of Installing Temporary Fencing
You often hear of thefts and trespassing incidents occurring during the night at construction sites where construction equipment and building material are stolen and damaged. This damage and theft often ends up costing the construction company a lot of money to replace or repair equipment. The most serious trespassing situation is when those who sneak in end up hurting themselves.
Temporary fences can prevent thieves and trespassers from entering a construction site when properly secured.
In addition to these benefits, temporary fencing offers residential and commercial property owners controlled access to their site and clear boundary definitions.
For a Quick Quote, call Star today
Star Fence is your local temporary fence rental company.
613.234.9799  |  877.234.9799
The cost of renting temporary fences depends mainly on the overall length of the fence you need.
Renting fence panels is the best solution if you need temporary fencing in Ottawa for your short term Construction Projects or Special Events.
If you are planning to organize an event in an open area but want to set boundaries, you can use Star Fence temporary fencing to prevent people from wandering or going to places beyond the boundaries of your event.
Temporary fencing is great when you want to prevent thieves from getting your building materials and unwanted guests from vandalizing your property.
If you know when you need your fencing and how many feet of fencing you need, call Sta r Fence today for a quick quote
Star Fences are made to withstand rough conditions — meeting your expectations every time you rent temporary fencing from us. Our temporary fence panels are stable and made to fit within a range of terrains. Using only top-quality reliable materials, we inspect each fence before it leaves our storage building to ensure it complies with our high-quality standards here at Star Fence Ottawa.
Panel Size: 6 feet by 9.6 feet (1.83m X 2.92m )
Mesh Size: 2 inch by 4 inch ( 50mm X 100mm )
Material: Hot dipped wire and tube
Colour: Powder Coated Safety Yellow for High Visibility
Easy to set up and tear down mobile fencing system meets the requirements for a barrier separating a construction site, carnival/festival activities, or crowds of pedestrians from restricted areas.
Portable fencing panels have been successfully used in Ottawa and all around Eastern Ontario. 
Temporary fencing is portable and the configurations layout is unlimited. A Star Fence panel system installs quickly and can be removed quickly. Our panels are free-standing, therefore no drilling into pavement is necessary.
Renting a temporary fence from Star Fence is a quick and convenient solution for any event or job site. We work for you to ensure reliability and timely delivery. 
Perfect for construction sites, crowd control, on top of paving, landscape protection, outdoor retail areas and any type of special events.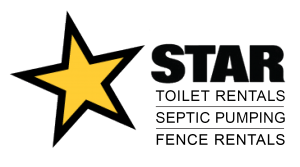 FULL SERVICE RENTALS — 
Top Quality Construction Fencing, Star is well known in the Ottawa area for providing Portable Toilet Rentals.
Serving Ottawa, Kemptville, North Gower, Stittsville, Carleton Place, Almonte, Arnprior, Richmond, Manotick, Kars, Osgoode, Greely, Metcalfe, Vernon, Russell,  Brockville, Prescott, Morrisburg, Ingleside, Cornwall and most of Eastern Ontario